When I mentioned range, I thought of Arrow Shot and how similar it is to Flame/Shock/Frost Arrow, which was what I meant by range. I do agree that magic builds usually get the bonus damage from weaknesses, but Hex serves well as a substitute for the bonus damage. Healing is a definite plus for Magic, but I place greater priority on more defense for myself instead of being a backup healer like before. Still, AoE differs enough that I am going to place them both separately now

I do know that the "stable drop" is a very deadly thing, and it has ended a few runs of mine while heavily damaging my party for a few others. That's why I like to run away right away, unless I have damage superiority or kill x enemy links to complete. Did you know that the demons all split after death, so that there are packs of 1 all around the map, with an exception of a singular pack of three? Very funny to see the first time I did it.

Good to know that Haste is actually much stronger that I thought (except with Death Worms and the like). Also good to know that Ignite prevents Regeneration, like Melting, so that I don't make the mistake of thinking my Healing Factor demons can survive another turn. Don't know much about XP, but I do know that skipping the occasional floor or two won't make it impossible to progress, especially since I did finish my first victory with a pathetically leveled party

Probably not going to be able to finish this run anytime soon. I'm a bit preoccupied, but I can post this status update to my current run.

I did manage to import the save over from the previous build to the newest one.
Here I've run into a pack of Buruburu and Alma while linking with Headless. Luckily, I have three Ogres from Buruburu link who are my go-to early game OOD demons for every run. To get these Ogres, it was best for me to run away from them until I secured Raicho for the damage, and Echeneis helped with Chill while Homunculus was the third member in the party. Raicho was deployed after linking with the Ogre while we were all next to it, since it was too fast to simply walk next to the Ogre without dying.

I was fighting Vikhor's pack and almost died to their Discharges. However, I managed to sacrifice many demons and my Gandayah to get far enough away, and they all absorbed enough SP to let the Ogre kill them all. I survived, and got an Aeras after a while.
I used the Aeras to kill Madevra with Discharge as damage and Fade for tanking a few hits without getting guilted. However, when it decided to melee her, the counterattack guilted Aeras and she healed up again. Python was a more effective tank, but it eventually failed. I managed to finish her off though with Venomous from Artemis. Then, I run into a Shoggoth right after killing her and I recruit it for help against Paracelsus, sacrificing an Aspis for it. My party rushed into a crack in Paracelsus' party, surrounded him, and focused him down, killing him and leaving his Ember Burst Nero for my taking.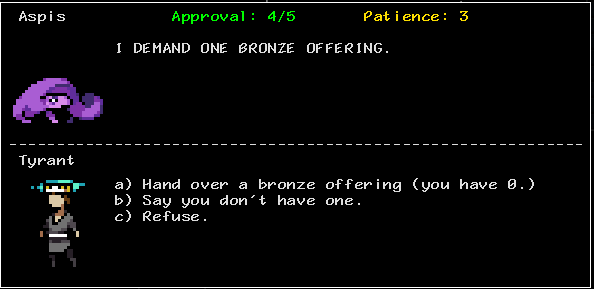 This aspis thought so highly of itself that it asked me for a bronze offering, something that I thought only uniques did.

Later on in the tower, I run into major trouble with Elokos and then Oozes. The Eloko could charm anything I sent out, so I tried to link with a Shisa to deal with them, and fused it with Headless for the mind resist. It totally didn't work, and charm managed to pierce through the Heroic buff first and then through mind resist as well. So, I resorted to kiting them around with Swiftness and Needle Shot while my Shisa occasionally recovered to Holy Word the packs.
When facing oozes, they barely did anything at first, but I ran into a second pack while chasing a linked Ooze before fully healing myself and my party quickly died. My Shisa was bursted instantly while my Pele couldn't finish off the Oozes quickly enough, so they all healed up from draining her. I thought Miodchaoin could tank for a while but I was wrong. However, I did manage to round the corner and leave by lessening the damage with a link attempt, sending off an Ooze and buying me more time. I finish the rest of the level, and come back with Pele and Carbuncle for hit and run Ember Burst attacks, which successfully kill them off. I almost use a silver offering here...but good thing I didn't, because this situation just happened: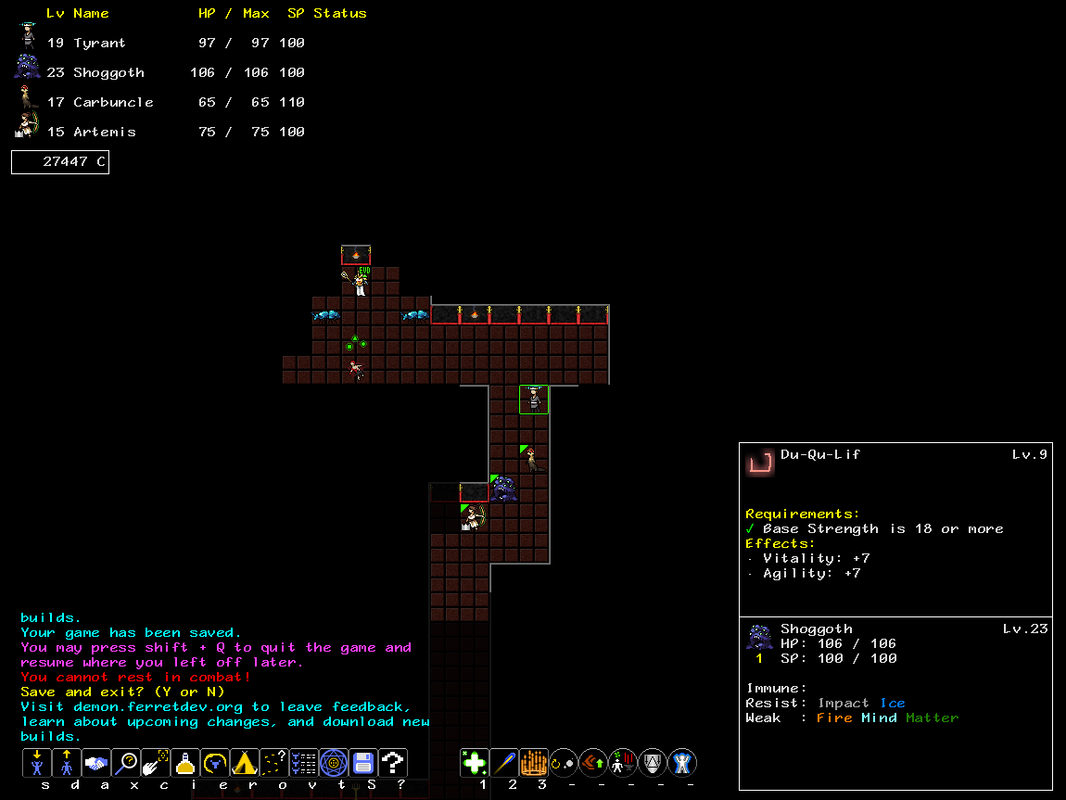 Here's an OOD Power pack in Baphomet's Sanctum that looks extremely durable. The Power has a brand that gives it 18 Strength and 18 Agility in return for having 1 Cunning. Combined with Vehemence and the Scarabs' Gift of Life, Protect, and Evade, it is reasonable to assume that it would almost be impossible to kill with my current party. It also does a massive amount of damage to me with +80% damage from strength and Vehemence. I will definitely use the silver offering here, but I am still thinking about which fusion to create. I also have Mind Reader available, so that's nice.

Also, what's up with these guardian gems? This is the third time in a row that I've had three.

Code: Select all

Demon Party Dump File
Version 4/6/2019, Scoring Model: 3/10/2019
Dump file created at: 4/7/2019 5:32:32 PM


Summoner Tyrant...
was chosen by the Crown of Glory,
selected Healing as their starting element,
has earned a score of 464721 (presently on cycle 7),
is currently at Baphomet's Sanctum,
and is still alive!



--==== Main Character ====--

Name : Tyrant
Level: 19
MaxHP: 97
MaxSP: 100

Strength: 70
Magic : 10
Vitality: 20
Agility : 30
Cunning : 10

Resist: Body
Weak : Dark

Abilities Known:
1) Heal Wounds (Type: Healing, 25 SP. 105 Power heal.)
2) Needle Shot (Type: Pierce, 15 SP. 70 Power attack.)
3) Might (Type: Buff, 10 SP. Improves offense by 25%.)
4) Resolute (Type: Healing, Reactive. Reduces the remaining duration of each of your negative status effects by 20% of the current duration when damaged by attacks (excluding reactions). No effect on Shock, Stun, or Harden.)
5) Swiftness (Type: None, Passive. Reduces the turn cost of movement and movement abilities by 20%.)
6) Lucky Dodge (Type: Defense, Passive. Provides a 20% chance to dodge attacks. This works even when Stunned, Paralyzed, etc. Triggers a Luck cooldown when activated. Cooldown: Luck (3))
7) Block Physical (Type: Defense, Passive. Provides a 20% chance to block Slash, Impact, and Pierce attacks.)
8) Glacial Shell (Type: Ice, Passive. Provides a 100% chance to block Slash, Impact, Pierce, Fire, Electricity, and Ice attacks. This works even when Stunned, Paralyzed, etc. Triggers a Cold cooldown when activated. Cooldown: Cold (4))

Relic Upgrades:
Capacity Up II (Grants additional storage capacity for demon allies, allowing for a total of 8 at once.)
Recycle (Delete Demon now grants Credits based on the number of levels the demon has gained (more levels = more Credits).)
Enemy Lure (Unlocks the Enemy Lure transmutation, which allows you to reveal hidden demons in your surroundings. Some demons are very hard to find without this technique, but using it is not without risk...)

Inventory:
1 Might gem
8 Chakra stone
3 Guardian gem
2 Chakra gem
4 Pure gem
3 Zephyr card
2 Pain glyph
14 Heal stone
1 Peace offering
6 Pure stone
1 Purple essence
2 Blizzard rune
1 Heart glyph
2 Red essence
1 Flame glyph
1 Calm card
1 Magic map
1 Ghost chime
2 Night rune
1 Venom rune
1 Silver offering
2 Mirror chime
1 Frost glyph
2 Heal gem
1 Green essence
1 Curse rune
1 Orange essence
1 Bolt glyph

Brands:
Sh-Co (Lv.7)
SP Costs: -1
Cunning: +5
Sh-We (Lv.7)
Strength: -4
Cunning: +12
Ri-Co-Dis (Lv.8)
Base Magic is 25 or more
SP Costs: -2
SP Costs: -12%
Du-Qu-Lif (Lv.9)
Base Strength is 18 or more
Agility: +7
Vitality: +7
Sh-Fa (Lv.11)
SP per Turn: -2.0
Cunning: +14
Mi-Qu (Lv.11)
Agility: +7
Strength: +7
Ri-In (Lv.11)
Max SP: +10
SP Costs: -10%
Sh-Er (Lv.11)
No active abilities
Cunning: +25
Mi (Lv.12)
Strength: +10
Du-Rel (Lv.17)
No base SP cost above 0
Vitality: +32
Sh (Lv.17)
Cunning: +13
Po-Cl (Lv.19)
Agility: -8
Magic: +22

Current Credits: 27447



--==== Party Overview ====--

Element Users Immune Resistant Normal Weak
--------------------------------------------------------------------
Slash 2 0 1 7* 1
Impact 3 0 2 5* 2
Pierce 3* 0 1 7* 1
Fire 2 1 0 4* 4
Ice 0 0 2 4* 3
Electricity 0 0 2 7* 0
Body 1 1 4* 4 0
Mind 0 0 2 5* 2
Matter 1 0 1 5* 3
Light 1 0 3 5* 1
Dark 0 1 2 5 1*

n : Number of party members counted.
* : Denotes the main character is included.



--==== Current Party ====--

Name : Artemis
Level: 15
MaxHP: 75
MaxSP: 100

Strength: 29
Magic : 12
Vitality: 16
Agility : 39
Cunning : 24

Resist: Body Light Dark
Weak : Slash Impact Pierce

Abilities Known:
1) Intent (Type: Buff, 5 SP. Briefly improves accuracy by 25%. Free action. Cooldown: Cantrip (3))
2) Bloodlust (Type: None, Passive. Restores SP per target damaged when you deal damage with Slash, Impact, or Pierce abilities. 5 SP for the first target, 4 SP for the second, etc. No further recovery after 5 targets.)
3) Venomous (Type: Body, Passive. Provides a 35% chance for your Slash, Impact, and Pierce attacks to apply Poison, causing damage over time (can stack three times).)
4) Tormentor (Type: None, Passive. Restores 5 SP when you deal damage to one or more characters that have negative status effects.)
5) Needle Spray (Type: Pierce, 20 SP. Attenuated 55 Power attack.)
6) Needle Shot (Type: Pierce, 15 SP. 70 Power attack.)
7) Prepare (Type: Buff, 5 SP. Briefly improves defense by 25%. Free action. Cooldown: Cantrip (3))
8) Crusader (Type: Light, Passive. Provides a 35% chance for your Slash, Impact, and Pierce attacks to apply Guilt, healing those who damage the target (excluding reactions).)


Name : Carbuncle
Level: 17
MaxHP: 65
MaxSP: 125

Strength: 13
Magic : 15
Vitality: 21
Agility : 42
Cunning : 39

Resist: Mind Light
Weak : Ice Matter

Soul Brand:
Po-Cl-Em (Lv.6)
4 or less abilities
Agility: -2
Magic: +15

Abilities Known:
1) Corrupt (Type: Body, 15 SP. 85% chance to inflict Infection, which prevents most HP and SP recovery.)
2) Acid Wash (Type: Matter, 15 SP. 85% chance to inflict Melting, causing damage over time.)
3) Burning Vapor (Type: Fire, Passive. Attempts to inflict Melting on non-immune targets also have a 70% chance to briefly inflict Ignite, causing damage over time.)
4) Glacial Shell (Type: Ice, Passive. Provides a 100% chance to block Slash, Impact, Pierce, Fire, Electricity, and Ice attacks. This works even when Stunned, Paralyzed, etc. Triggers a Cold cooldown when activated. Cooldown: Cold (4))
5) Tireless (Type: None, Passive. Increases MaxSP by 25.)
6) Ember Burst (Type: Fire, 20 SP. 70% chance to Ignite the targets for an unusually long duration, causing damage over time.)
7) Toxic Vapor (Type: Body, Passive. Attempts to inflict Melting on non-immune targets also have a 50% chance to briefly inflict Poison, causing damage over time (can stack three times).)
8) Souleater (Type: Dark, Reactive. Responds to a visible character's death by attacking them with a drain that heals you for 10% of their maximum HP.)


Name : Python
Level: 18
MaxHP: 103
MaxSP: 100

Strength: 35
Magic : 10
Vitality: 47
Agility : 27
Cunning : 27

Resist: Slash Impact Electricity Body
Weak : Fire Ice Matter

Soul Brand:
Qu-Fa (Lv.7)
SP per Turn: -2.0
Agility: +11

Abilities Known:
1) Tackle (Type: Impact, 10 SP. 70 Power attack. Has a 50% chance to delay the next turn of the target.)
2) Earth Break (Type: Impact, 25 SP. 70 Power attack.)
3) Tangling Veil (Type: Matter, Reactive. 35% chance to inflict Held on adjacent characters that deal damage to you, which reduces accuracy, evasion, and movement speed (can stack three times.))
4) Bloodlust (Type: None, Passive. Restores SP per target damaged when you deal damage with Slash, Impact, or Pierce abilities. 5 SP for the first target, 4 SP for the second, etc. No further recovery after 5 targets.)
5) Triad Ward (Type: Defense, Passive. Provides a 20% chance to block Fire, Ice, and Electricity attacks. This works even when Stunned, Paralyzed, etc.)
6) Poison Veil (Type: Body, Reactive. 35% chance to Poison adjacent characters that deal damage to you, causing damage over time (can stack three times).)
7) Mobility (Type: None, Passive. Reduces the turn cost of movement and movement abilities by 30% if no Charge abilities are on cooldown. Cooldown: Charge (0))
8) Accursed Veil (Type: Dark, Reactive. 35% chance to inflict Pariah on adjacent characters that deal damage to you, causing the target's allies to take damage when the target does (excluding reactions).)


Name : Shoggoth
Level: 23
MaxHP: 106
MaxSP: 100

Strength: 45
Magic : 12
Vitality: 52
Agility : 33
Cunning : 32

Resist: Impact Ice
Weak : Fire Mind Matter

Soul Brand:
Du-Qu-Lif (Lv.9)
Base Strength is 18 or more
Agility: +7
Vitality: +7

Abilities Known:
1) Speedbreaker (Type: Impact, 20 SP. 70 Power attack. Has a 50% chance to reduce speed by 33%.)
2) Healing Factor (Type: Healing, Reactive. Bestows Regeneration when an attack reduces your health to 50% or less, restoring health over time. Cooldown: Factor (1))
3) Eat Alive (Type: Pierce, 10 SP. 100 Power attack. Half normal accuracy. Heals the user for 50% of the damage dealt (affected by Body resistance).)
4) Dazzling Veil (Type: Mind, Reactive. 20% chance to Stun adjacent characters that deal damage to you, causing them to miss their next turn.)
5) Mind Reader (Type: Mind, Passive. Increases accuracy and evasion by 13% versus all opponents. (Bonuses are affected by Mind resistance.))
6) Tangler (Type: Matter, Passive. Provides a 35% chance for your Slash, Impact, and Pierce attacks to inflict Held, which reduces accuracy, evasion, and movement speed (can stack three times.))
7) Malleable (Type: Healing, Passive. Improves natural HP regeneration and healing received (including from the Regen status effect) by 25%. Does not affect healing received based on dealing damage.)
8) ------------


Name : Miodchaoin
Level: 18
MaxHP: 94
MaxSP: 100

Strength: 49
Magic : 26
Vitality: 38
Agility : 16
Cunning : 16

Resist: Body Matter
Weak : Mind

Soul Brand:
Po (Lv.12)
Magic: +10

Abilities Known:
1) Smash (Type: Impact, 10 SP. 85 Power attack.)
2) Mighty Roar (Type: Impact, 20 SP. Attenuated 0-85 Power attack, based on the user's SP (max SP = 85 Power). Has a 50% chance to inflict Stun, causing the targets to miss their next turn. Cooldown: Breath (6))
3) Second Wind (Type: Healing, 0 SP. Can be used while Muted. Restores 30 SP and resets your Breath and Charge cooldowns. Free action. Cooldown: Endure (4))
4) Flesheater (Type: Body, Reactive. Responds to an adjacent character's death by attacking them with a drain that heals you for 25% of their maximum HP.)
5) Juggernaut (Type: Defense, Passive. When your last action was movement or a movement ability, you have 25% improved defense and your next turn comes faster when damaged by enemies (excluding status effects and reactions).)
6) Oppressor (Type: Dark, Passive. Increases defense by 25% against enemies with lower HP. (Bonus is affected by Dark resistance.))
7) Accursed (Type: Dark, Passive. Provides a 35% chance for your Slash, Impact, and Pierce attacks to apply Pariah, causing the target's allies to take damage when the target does (excluding reactions).)
8) Innocence (Type: Mind, Passive. Increases offense, defense, accuracy, and evasion by 33%, and status accuracy and status resistance by 16%, versus opponents who are at full HP. (Bonuses are affected by Mind resistance.))


Name : Turdak
Level: 19
MaxHP: 75
MaxSP: 100

Strength: 41
Magic : 16
Vitality: 25
Agility : 37
Cunning : 31

Immune: Body Dark
Resist: Pierce Ice
Weak : Impact Fire Light

Soul Brand:
Mi (Lv.12)
Strength: +10

Abilities Known:
1) Leap Attack (Type: Slash, 20 SP. Must target a character. Leap to the target with an 85 Power attack. Inflicts Stun, causing the target to miss their next turn. Cooldown: Charge (8))
2) Spin Slash (Type: Slash, 15 SP. 70 Power attack. Also considered a movement ability.)
3) Slash Dance (Type: Slash, 10 SP. 70 Power attack, enemies only. Also considered a movement ability. Cooldown: Breath (2))
4) Evade Step (Type: Defense, Passive. Gain a 25% chance to dodge attacks when your last action was movement or a movement ability.)
5) Numbing (Type: Body, Passive. Provides a 20% chance for your Slash, Impact, and Pierce attacks to apply Paralysis, causing the target to frequently miss their turns.)
6) Cleansing Dance (Type: Healing, 15 SP. Removes Poison, Infection, and Paralysis from allies. Also considered a movement ability. Cooldown: Breath (6))
7) Fade (Type: Buff, 5 SP. Briefly improves evasion by 25%. Free action. Cooldown: Cantrip (3))
8) Swiftness (Type: None, Passive. Reduces the turn cost of movement and movement abilities by 20%.)


Name : Maj. Shisa
Level: 19
MaxHP: 89
MaxSP: 100

Strength: 38
Magic : 25
Vitality: 32
Agility : 32
Cunning : 13

Resist: Mind Light Dark
Weak : Fire

Abilities Known:
1) Holy Word (Type: Light, 20 SP. Attenuated 0-85 Power attack, based on the user's SP (max SP = 85 Power). Cooldown: Breath (4))
2) Focusing Cry (Type: Buff, 15 SP. Briefly improves accuracy by 25% for you and your allies. Cooldown: Presence (3))
3) Cursebreak Cut (Type: Slash, 20 SP. 70 Power attack. Removes Offense Down, Defense Down, Accuracy Down, Evasion Down, and Speed Down from you or a nearby ally.)
4) Exorcist's Mien (Type: Light, Passive. Your Light and Dark attacks deal 20% more damage to targets weak to Light.)
5) King's Mien (Type: Light, Passive. Your Light and Dark attacks have a 70% chance to apply Guilt to targets whose HP is at or above their base maximum, healing those who damage the targets (excluding reactions).)
6) Storm Veil (Type: Electricity, Reactive. Responds to damage dealt to you by adjacent characters with a 20 Power attack that has a 5% chance to Shock the target, causing the target to miss their next turn. Cannot miss.)
7) Reshape (Type: Healing, 0 SP. Removes all negative status effects, then applies a 130 Power heal. Free action. Cooldown: Endure (6))
8) Ready Block (Type: Defense, Passive. If your last action was a Melee, Beam, or Direct range Slash, Impact, or Pierce ability, provides a 20% chance to block Slash, Impact, Pierce, Fire, Electricity, and Ice attacks.)


Name : Pele
Level: 20
MaxHP: 88
MaxSP: 100

Strength: 17
Magic : 69
Vitality: 26
Agility : 26
Cunning : 20

Immune: Fire
Resist: Electricity
Weak : Ice

Soul Brand:
Po (Lv.17)
Magic: +13

Abilities Known:
1) Flame Arrow (Type: Fire, 20 SP. 85 Power attack. Has a 35% chance to Ignite the target, causing damage over a short duration.)
2) Rain of Fire (Type: Fire, 30 SP. Attenuated 85 Power attack. Has a 35% chance to Ignite the targets, causing damage over a short duration.)
3) Firestarter (Type: Fire, Passive. Increases your chance to apply Ignite by 50% of the original chance.)
4) Warmth (Type: Fire, Passive. Increases HP and SP regeneration based on the number of Ignited characters you can see (more characters = larger bonus, with diminishing returns.))
5) Alluring Veil (Type: Mind, Reactive. 10% chance to Charm adjacent characters that deal damage to you, turning them against their allies.)
6) Vigorous (Type: None, Passive. Increases base SP regeneration by 50%.)
7) Combustive Aura (Type: Fire, Reactive. Each standard turn, has an 8% chance to Ignite enemies, causing damage over a short duration.)
8) ------------



--==== Recent Messages ====--

visit its destination once. Are you ready to
enter? (Y or N)
There is a warp to Tower:14 here. Press 'p', '<',
or '>' to change levels.
Your game has been saved.
You may press shift + Q to quit the game and
resume where you left off later.
Pick up Po-Cl? (Y or N)
You pick up Po-Cl.
You have too many brands and must delete one.
Really delete Po? (Y or N)
You delete Po.
Your game has been saved.
You may press shift + Q to quit the game and
resume where you left off later.
Pick up Po? (Y or N)
You pick up Po.
You have too many brands and must delete one.
Really delete Po? (Y or N)
You delete Po.
You pick up the large cache.
Your relic absorbs 871 C.
You have spotted an enemy!
Your game has been saved.
You may press shift + Q to quit the game and
resume where you left off later.
The scarab gestures at the power.
The power looks more evasive!
The scarab gestures at the power.
Your carbuncle gestures at the scarab.
The scarab resists.
Your game has been saved.
You may press shift + Q to quit the game and
resume where you left off later.
Save and exit? (Y or N)
Visit demon.ferretdev.org to leave feedback,
learn about upcoming changes, and download new
builds.
Your game has been saved.
You may press shift + Q to quit the game and
resume where you left off later.
You cannot rest in combat!
Save and exit? (Y or N)
Visit demon.ferretdev.org to leave feedback,
learn about upcoming changes, and download new
builds.
Save and exit? (Y or N)
Visit demon.ferretdev.org to leave feedback,
learn about upcoming changes, and download new
builds.



--==== Recently Slain Allies ====--

Name : Brutal Ilomba
Level: 10
MaxHP: 58
MaxSP: 100

Strength: 25
Magic : 12
Vitality: 18
Agility : 25
Cunning : 15

Weak : Light

Abilities Known:
1) Leech Bite (Type: Pierce, 10 SP. 70 Power attack. Heals the user for 50% of the damage dealt (affected by Body resistance).)
2) Draw Wounds (Type: Healing, 0 SP. 105 Power heal. Costs HP equal to the amount healed, but cannot kill the user. Free action. Cooldown: Cantrip (1))
3) Souleater (Type: Dark, Reactive. Responds to a visible character's death by attacking them with a drain that heals you for 10% of their maximum HP.)
4) Dazzling Gaze (Type: Mind, 10 SP. 70% chance to inflict Stun, causing the target to miss their next turn. Cooldown: Presence (4))
5) Accursed (Type: Dark, Passive. Provides a 35% chance for your Slash, Impact, and Pierce attacks to apply Pariah, causing the target's allies to take damage when the target does (excluding reactions).)
6) Crusader (Type: Light, Passive. Provides a 35% chance for your Slash, Impact, and Pierce attacks to apply Guilt, healing those who damage the target (excluding reactions).)
7) ------------
8) ------------


Name : Stymphalides
Level: 11
MaxHP: 49
MaxSP: 100

Strength: 16
Magic : 12
Vitality: 16
Agility : 28
Cunning : 28

Resist: Body Matter
Weak : Impact Fire Electricity Mind

Abilities Known:
1) Acid Dart (Type: Matter, 15 SP. 55 Power attack. Has a 70% chance to inflict Melting, causing damage over time.)
2) Needle Spray (Type: Pierce, 20 SP. Attenuated 55 Power attack.)
3) Toxic Vapor (Type: Body, Passive. Attempts to inflict Melting on non-immune targets also have a 50% chance to briefly inflict Poison, causing damage over time (can stack three times).)
4) Mobility (Type: None, Passive. Reduces the turn cost of movement and movement abilities by 30% if no Charge abilities are on cooldown. Cooldown: Charge (0))
5) ------------
6) ------------
7) ------------
8) ------------


Name : Aeras
Level: 14
MaxHP: 59
MaxSP: 100

Strength: 13
Magic : 33
Vitality: 13
Agility : 38
Cunning : 28

Immune: Electricity
Resist: Matter
Weak : Light Dark

Soul Brand:
Qu-Sh-Dis (Lv.4)
Base Magic is 19 or more
Cunning: +5
Agility: +5

Abilities Known:
1) Emit Sparks (Type: Electricity, 15 SP. Targets up to 3 random enemies. 70 Power attack. Has a 20% chance to inflict Shock, causing the targets to miss their next turn. 70% chance to hit, unaffected by accuracy and evasion.)
2) Galvanize (Type: Electricity, Passive. When you apply Shock, you regain 30 SP.)
3) High Voltage (Type: Electricity, Passive. Increases your chance to apply Shock by 50% of the original chance.)
4) Fade (Type: Buff, 5 SP. Briefly improves evasion by 25%. Free action. Cooldown: Cantrip (3))
5) Storm Veil (Type: Electricity, Reactive. Responds to damage dealt to you by adjacent characters with a 20 Power attack that has a 5% chance to Shock the target, causing the target to miss their next turn. Cannot miss.)
6) Reshape (Type: Healing, 0 SP. Removes all negative status effects, then applies a 130 Power heal. Free action. Cooldown: Endure (6))
7) ------------
8) ------------


Name : Headless
Level: 13
MaxHP: 96
MaxSP: 125

Strength: 27
Magic : 8
Vitality: 49
Agility : 15
Cunning : 15

Resist: Ice Body
Weak : Electricity Light

Soul Brand:
Ef-Du (Lv.3)
Vitality: +4
SP per Turn: +0.7

Abilities Known:
1) Daring Cut (Type: Slash, 15 SP. 70 Power attack. Briefly increases your or a nearby ally's offense by 25%.)
2) Swiftness (Type: None, Passive. Reduces the turn cost of movement and movement abilities by 20%.)
3) Leadership (Type: Buff, Passive. Accelerates the next turn of a nearby ally when you use Slash, Impact, or Pierce abilities to deal damage to one or more characters.)
4) Diehard (Type: Defense, Passive. Prevents death, except by Ignite, Poison, or Melting damage. May trigger an Endure cooldown when activated (more damage dealt = higher chance). Cooldown: Endure (6))
5) Tireless (Type: None, Passive. Increases MaxSP by 25.)
6) King's Mien (Type: Light, Passive. Your Light and Dark attacks have a 70% chance to apply Guilt to targets whose HP is at or above their base maximum, healing those who damage the targets (excluding reactions).)
7) Reshape (Type: Healing, 0 SP. Removes all negative status effects, then applies a 130 Power heal. Free action. Cooldown: Endure (6))
8) Storm Veil (Type: Electricity, Reactive. Responds to damage dealt to you by adjacent characters with a 20 Power attack that has a 5% chance to Shock the target, causing the target to miss their next turn. Cannot miss.)


Name : Drop bear
Level: 18
MaxHP: 98
MaxSP: 100

Strength: 44
Magic : 10
Vitality: 44
Agility : 21
Cunning : 16

Resist: Electricity
Weak : Fire

Abilities Known:
1) Leap Attack (Type: Slash, 20 SP. Must target a character. Leap to the target with an 85 Power attack. Inflicts Stun, causing the target to miss their next turn. Cooldown: Charge (8))
2) Maul (Type: Slash, 15 SP. 85 Power attack split between two Slash attacks.)
3) Eat Alive (Type: Pierce, 10 SP. 100 Power attack. Half normal accuracy. Heals the user for 50% of the damage dealt (affected by Body resistance).)
4) Innocence (Type: Mind, Passive. Increases offense, defense, accuracy, and evasion by 33%, and status accuracy and status resistance by 16%, versus opponents who are at full HP. (Bonuses are affected by Mind resistance.))
5) ------------
6) ------------
7) ------------
8) ------------


Name : Ogre
Level: 15
MaxHP: 77
MaxSP: 100

Strength: 39
Magic : 14
Vitality: 37
Agility : 16
Cunning : 14

Resist: Body Matter
Weak : Electricity Mind

Abilities Known:
1) Flesheater (Type: Body, Reactive. Responds to an adjacent character's death by attacking them with a drain that heals you for 25% of their maximum HP.)
2) Juggernaut (Type: Defense, Passive. When your last action was movement or a movement ability, you have 25% improved defense and your next turn comes faster when damaged by enemies (excluding status effects and reactions).)
3) Oppressor (Type: Dark, Passive. Increases defense by 25% against enemies with lower HP. (Bonus is affected by Dark resistance.))
4) Leadership (Type: Buff, Passive. Accelerates the next turn of a nearby ally when you use Slash, Impact, or Pierce abilities to deal damage to one or more characters.)
5) Souleater (Type: Dark, Reactive. Responds to a visible character's death by attacking them with a drain that heals you for 10% of their maximum HP.)
6) Malleable (Type: Healing, Passive. Improves natural HP regeneration and healing received (including from the Regen status effect) by 25%. Does not affect healing received based on dealing damage.)
7) Venomous (Type: Body, Passive. Provides a 35% chance for your Slash, Impact, and Pierce attacks to apply Poison, causing damage over time (can stack three times).)
8) Maul (Type: Slash, 15 SP. 85 Power attack split between two Slash attacks.)


Name : Easg saint
Level: 15
MaxHP: 65
MaxSP: 100

Strength: 12
Magic : 36
Vitality: 14
Agility : 34
Cunning : 24

Immune: Light
Weak : Body Dark

Abilities Known:
1) Censure (Type: Light, 10 SP. 40 Power attack. Cannot miss.)
2) Judge's Mien (Type: Light, Passive. Your Light and Dark attacks have a 100% chance to delay the next turn of targets whose last action was a damaging ability.)
3) Absolution (Type: Healing, 15 SP. Removes Guilt, Mute, Pariah, and Hex.)
4) Refresh (Type: Healing, 5 SP. Transfers up to 15 SP from the user to the target. Free action. Cooldown: Cantrip (1))
5) ------------
6) ------------
7) ------------
8) ------------


Name : Akateko
Level: 19
MaxHP: 66
MaxSP: 100

Strength: 16
Magic : 40
Vitality: 28
Agility : 40
Cunning : 16

Immune: Body
Resist: Dark
Weak : Light

Abilities Known:
1) Vampiric Touch (Type: Body, 15 SP. 85 Power attack. Heals the user for 66% of the damage dealt.)
2) Wraith Touch (Type: Dark, 15 SP. 70 Power attack, split between HP and MaxHP damage. 66% of the MaxHP damage is drained to the user as bonus MaxHP.)
3) Swiftness (Type: None, Passive. Reduces the turn cost of movement and movement abilities by 20%.)
4) Evade Step (Type: Defense, Passive. Gain a 25% chance to dodge attacks when your last action was movement or a movement ability.)
5) ------------
6) ------------
7) ------------
8) ------------